We ship our bracelets free of charge. Usually they go on the journey within two working days. If it takes longer, we will inform you by email.
Please email us if you have any questions, for example about our materials or the manufacturing process. Intermediate sizes are possible. The 001 series is also available in silver.
mail [at] loismathar.com
+49 160 7534634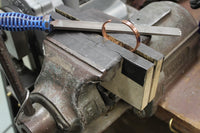 Lois Mathar* was born in southern Germany in 1952 and began his career as an artist and jewelry designer in the early 1970s. At that time he lived in Italy and sold his very special one-offs on the famous Ponte Vecchio in Florence - also known as the "Jewelers' Bridge". He has had his workshop in the heart of Munich since 1980, where he still carefully hand-forges his remarkable pieces of jewelry.
*Lois Mathar is a pseudonym. The artist wants to protect his privacy.